First of all we need to understand what a CDN or Content Delivered Network is, and how it may help.
Traditionally your website is served from your servers hosting location, in some cases this could be on the other side of the world, resulting in slow server response times. You can read more about server location options here.
A CDN is a network of servers in different locations across the globe, and parts of your website are copied, or duplicated across these servers in an attempt to serve you your website's data from a location closer to you than your original host.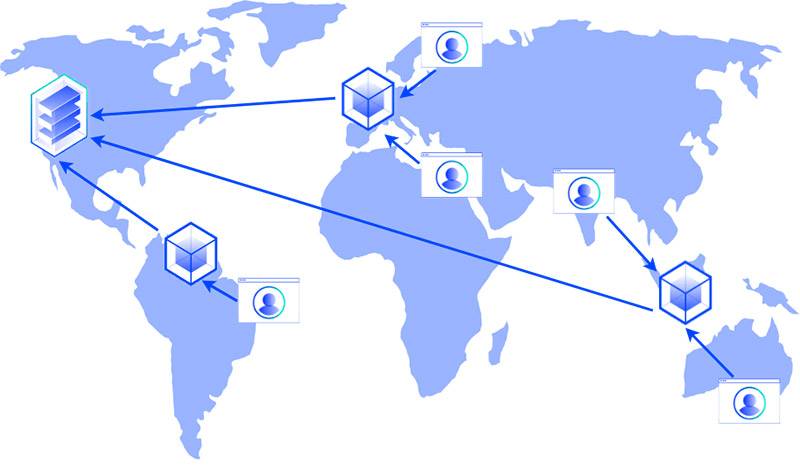 Utilising a CDN is an attempt to speed up the server response times. Your website is still served from its original location, but the CDN stores any static content from your website, such as images and fonts, at its different network points in different corners of the world. The base, or structure of your website is still served from its original location, still suffering from slow response times, but the stored static content may now be served from a hub possibly in Singapore or Sydney. This means that these sections of the website will not suffer from quite the same low response times.
But even for some content to be served from say Sydney, your Perth based business and clients may still have better options available. Ask about BluSquare's Perth based dedicated servers.
What does this mean for load times?
A CDN does have its place. If your clients are spread across different countries, then it may well be one of the better options to consider. Or if your hosting is not local and you have no way to migrate to a better host then to use the services of a CDN are worth considering to keep those response or latency times low.
Where a CDN still cannot compete is against a local server, serving a local website, to local customers. Latency issues are not a problem because of the short distance for the requests to physically travel.
Our best advice, as always is, 'if it's local, keep it local'.
BluSquare web hosting
BluSquare Design is a Perth based website design, digital and social marketing agency predominantly serving local WA based businesses.
We want only the best for our clients, and for this reason alone, we only host our websites on our own dedicated servers that are located right here in Perth.
Our servers are located within the NexDC data centre in Malaga, WA. This means that our websites server response times and latency are absolutely minimal, thus gaining the tactical advantage from the start.
If you would like to talk to us at BluSquare about your website, design, seo, marketing or hosting, call 0466 441128 or email hello@blusquare.com.au.